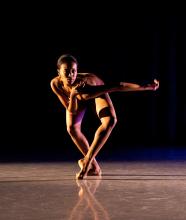 Photo: Khayla Fitzpatrick
Context programming
Celebrating Diversity – An evening with Dutch National Ballet
Black Achievement Month
Location
Dutch National Opera & Ballet, Foyer
Running time
1:00, no interval
Dutch National Ballet
The third programme presented by Dutch National Opera & Ballet as part of 'Celebrating Diversity' is all about Dutch National Ballet. The Surinamese-Dutch dancer, choreographer and Young Creative Associate Sedrig Verwoert is creating especially for this evening of conversation and dance, a new solo - Slightly damp in a misty street - which will be danced by BAM ambassador Davi Ramos.
Photo: Sebia Plantefève-Castryck, dancer Dutch National Ballet | © Khayla Fitzpatrick
Two works, which were presented last season as part of New Moves, will also be performed during this foyer evening. Sebia Plantefève-Castryck and Claire Tjoe-Fat of Dutch National Ballet will once again dance Shadow and Echo by the American choreographer Kara Roseborough, and grand sujet Daniel Robert Silva will be seen in Robin van Zupthen's solo La Traversee, which the choreographer created especially for Silva.
In addition, Marco Gerris and Ernst Meisner will talk about their co-productions, how they work together from different dance styles and what they come up against.
Sosha Duysker will be hosting this event.
Order tickets
Loading tickets...

Davi Ramos
This year, Davi Ramos is an ambassador for the Black Achievement Month. Born in Rio de Janeiro, Brazil, Davi studied at ballet schools in Brazil and London before being accepted to Dutch National Ballet's Junior Company in 2019. He was promoted to coryphée with Dutch National Ballet as of season 2022/2023.
Photo: Jonathan Hoost
Black Achievement Month
During the month of October, the Black Achievement Month Foundation will present the special contributions of people with African roots to the world and to Dutch society in particular. For a significant number of them, this country is an important focal point in their development. Individuals with African ancestry have taken root here and can be found in a range of disciplines in society. All these talents and their achievements deserve to be brought to the attention of the widest and most diverse audience possible.