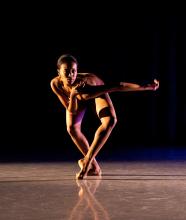 Photo: Khayla Fitzpatrick
Context programming
Celebrating Diversity – An evening with Dutch National Ballet
Black Achievement Month
Location
Dutch National Opera & Ballet, Foyer
Running time
1:00, no interval
Dutch National Ballet
The third programme presented by Dutch National Opera & Ballet as part of 'Celebrating Diversity' is all about Dutch National Ballet. It promises to be a varied evening with conversation and lots of dance. 
Photo: Sebia Plantefève-Castryck, dancer Dutch National Ballet | © Khayla Fitzpatrick
Programme
Our host Sosha Duysker will kick off the evening, giving the floor to Ted Brandsen (director Dutch National Ballet) and John Leerdam (artistic director Black Achievement Month). This will be followed by the pas-de-deux from The Sleeping Beauty, the piece Shadow and Echo by American choreographer Kara Roseborough and a sneak peek at the rehearsal of Sedrig Verwoert's Slightly damp in a misty street.
Sosha Duysker will continue the evening by speaking with Marco Gerris (artistic director of ISH Dance Collective) and Ernst Meisner (artistic director of Dutch National Ballet Academy and artistic coordinator of the Junior Company). The evening will be closed with the performance Rooftop sessions No. 2 by ISH Dance Collective, featuring saxophone, beat and dance.
Order tickets
Loading tickets...

Davi Ramos
This year, Davi Ramos is an ambassador for the Black Achievement Month. Born in Rio de Janeiro, Brazil, Davi studied at ballet schools in Brazil and London before being accepted to Dutch National Ballet's Junior Company in 2019. He was promoted to coryphée with Dutch National Ballet as of season 2022/2023.
Photo: Jonathan Hoost
Black Achievement Month
During the month of October, the Black Achievement Month Foundation will present the special contributions of people with African roots to the world and to Dutch society in particular. For a significant number of them, this country is an important focal point in their development. Individuals with African ancestry have taken root here and can be found in a range of disciplines in society. All these talents and their achievements deserve to be brought to the attention of the widest and most diverse audience possible.