Photo: Liza Kollau
Behind the scenes: wigs and make-up
5 July 2023
A quiff or bangs, eyeliner or a scar, a moustache or heavy sideburns. The Wigs & Make-up Department is always ready to transform a performer's appearance by giving them a make-over: 'A person will come to us as themselves and leave a totally different character. That's what I love about the job.'
Text: Lune Visser
The work of DNO&B's wigs & make-up artists is varied in many ways. They do both hair and make-up, and their day duties are different from their work on performance nights. Wigs & make-up artist Astrid Vreeken explains: 'Over the past few months, my day job has been to prepare hair looks, construct wigs and clean wigs between performances. Other times, like today, I don't come into work until the afternoon. Then I'm helping the performers with their wigs before and after the show, and I'm on make-up duty.'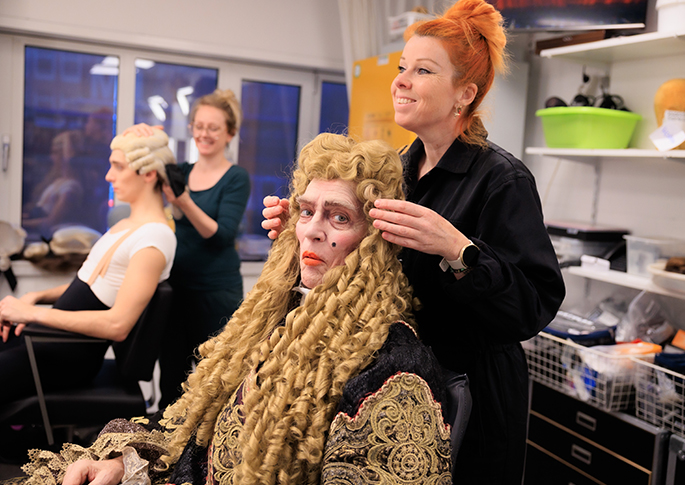 Marelva and Astrid helping the cast of The Sleeping Beauty with their wigs
Separate hair pieces for each dancer
Quick change and go!
There is also a difference between opera and ballet for the wigs & make-up team: 'For us, the flow is quite different between opera and ballet. In opera, we do most of our work ahead of time. There are only a handful of soloists and you usually have a bit more time. In ballet, you go from one group costume change to the next and you have to be really quick. The Sleeping Beauty, for instance, was extremely hectic for us: it has many dancers and a lot of them have multiple costume changes. Sometimes you only have 30 seconds to switch a hat out for a crown. It's all live, of course. You can't pause the performance if a change takes a little longer. That's why you have to be quick on your feet and have an eye for detail, in addition to being able to handle a bit of stress!'
Anchor points
Ballet dancers move around more than opera singers, so it is important that their wigs have a secure fit to keep them from slipping or becoming dislodged. But in opera too, wigs have to stay firmly in place. The Wigs & Make-up Department uses a special trick to make sure that an artist's natural hair is ready to support a wig: 'If an artist has long enough hair, we twist the hair into tight curls, which we pin to the head into tiny buns to create anchor points for the wig. This works really well because it keeps the hair contained and it helps to strategically place pins to secure the wig in the right places.'
'You have to be quick on your feet and have an eye for detail, as well as to be able to handle a bit of stress!''
Training
In short, it is safe to say that the wig & make-up artists see lot of variation in their work. But what training do they need? 'My mother happened to know someone in the Wigs & Make-up Department here. I talked to her way back when and she recommended that I start by training as a hairdresser and then train as a make-up artist after that. That's exactly what I did. It taught me a wide variety of techniques for working with make-up, grease paint and some special effects, as well as how to cut and style hair. That's a good skill to have because when artists don't wear wigs, their hair is styled before a performance, and sometimes we even trim it a little. Also, when a wig needs to be coloured, I use the technique I learned in hairdressing school.'
Astrid applying special make-up to the Lilac Fairy
Overall look
While it is part of the duties of the wig & make-up artists to dress and style hair, their small team does not have to be on hand to wrap the hair of the ballet dancers into a bun or do their make-up every night. 'The dancers do their own hair and they're perfectly capable of doing their own basic theatrical make-up. We're there for the more complex make-up jobs and to make up the performers who play the character roles (roles that involve acting and mime, ed.). Also, we help them with their wigs.'
'In opera, we do see the entire cast: we'll have one team for the soloists and another team for the members of the chorus and the extras. We go from minimal make-up to the most elaborate monster make-up and over-the-top wigs. We like doing the more outrageous stuff best, of course. The more flashy and exuberant, the better! In the end, it's about the overall look in combination with the costumes. A giant wig with street clothes wouldn't look right. Neither would an intricate costume with an everyday ponytail. The two go hand in hand. Together with the costume people, we make the most fantastic creations come to life on the stage!'
Checking if the wig's in the right place!
more peeks behind the scenes