Kristina Mkhitaryan (l) and Aigul Akhmetshina (r)
Royal rivals in Donizetti's Maria Stuarda
25 April 2023
Kristina Mkhitaryan and Aigul Akhmetshina 
In Dutch National Opera's new production of Donizetti's bel canto masterpiece Maria Stuarda, with stage direction by Jetske Mijnssen, soprano Kristina Mkhitaryan and mezzo-soprano Aigul Akhmetshina play the roles of the two rival queens Maria and Elisabetta. The two singers, who are friends as well as colleagues in real life, talk about these exceptional women who could have been friends too but were forced instead to become opponents in order to survive in a world dominated by men.
Text: Benjamin Rous
After the first full day of rehearsals, in which they ran through the entire staging, Kristina Mkhitaryan and Aigul Akhmetshina are in excellent spirits. They can't wait to start on this new production of Maria Stuarda, Donizetti's enthralling adaptation of Friedrich Schiller's play. Mkhitaryan and Akhmetshina sing the two leading roles of Mary I of Scotland and Elizabeth I of England. Akhmetshina: "We've got amazing colleagues and a fantastic team, which is a real blessing. Plus I get to work with my favourite singer! Kristina always drives me to improve and work even harder. It's not about competing with each other, it's about wanting to achieve the same high standard. You want to exhibit the same skill, the same musicality. I like it when your colleagues push you like this, so that you learn from them."
'With bel canto you really hear everything'
The magic of bel canto
Maria Stuarda is the second opera in what is often called Donizetti's Tudor trilogy. It is also a high point of Italian bel canto, the genre of romantic opera where the emphasis is on vocal beauty as a means of expressing emotion. Do you have to adapt as a singer when you perform a bel canto role? Mkhitaryan: "In February, I sang Violetta in La traviata followed by Adina in L'elisir d'amore. That was a big transition for me because Adina required a very different kind of singing, more restrained. Adina is another real bel canto role, but Maria Stuarda is actually closer to Violetta in terms of colour and volume. I feel very comfortable singing this role. Of course I need time to prepare properly, because you hear every little thing in bel canto — there's nowhere to hide. Get one small note wrong and everyone notices." Akhmetshina adds, "When you do Verdi, Wagner or Puccini, you have the big orchestration that covers you a bit and hides the minor errors you sometimes make. But in bel canto, you're completely exposed in vocal terms out there on the stage. It's superb music, with many fine details, like jewellery."
Donizetti's genius
Does Donizetti give any musical clues as to how these two strong women should be portrayed? Akhmetshina: "I would say it is quite rare to have an opera with two female roles that are more or less equal, like here. I think Kristina's music is more sensitive. She has to play a lot with the dynamics. She also has these long phrases that require incredible breath control. My role, on the other hand, is written as more jagged, spiky and powerful music, with a lot of forte notes." Mkhitaryan: "When you look at the score, you can discover something new every day. Donizetti composed an amazing opera and produced a really impressive work. He included so many small details that it's important to pay attention to. Everything he wanted to have in the opera, he wrote in the score: you just have to read it and follow his instructions. Sometimes he writes long arcs but with certain accents, such as hesitations, within the arcs. It's as if you want to speak but end up stuttering because you are so overcome by emotion."
Kristina Mkhitaryan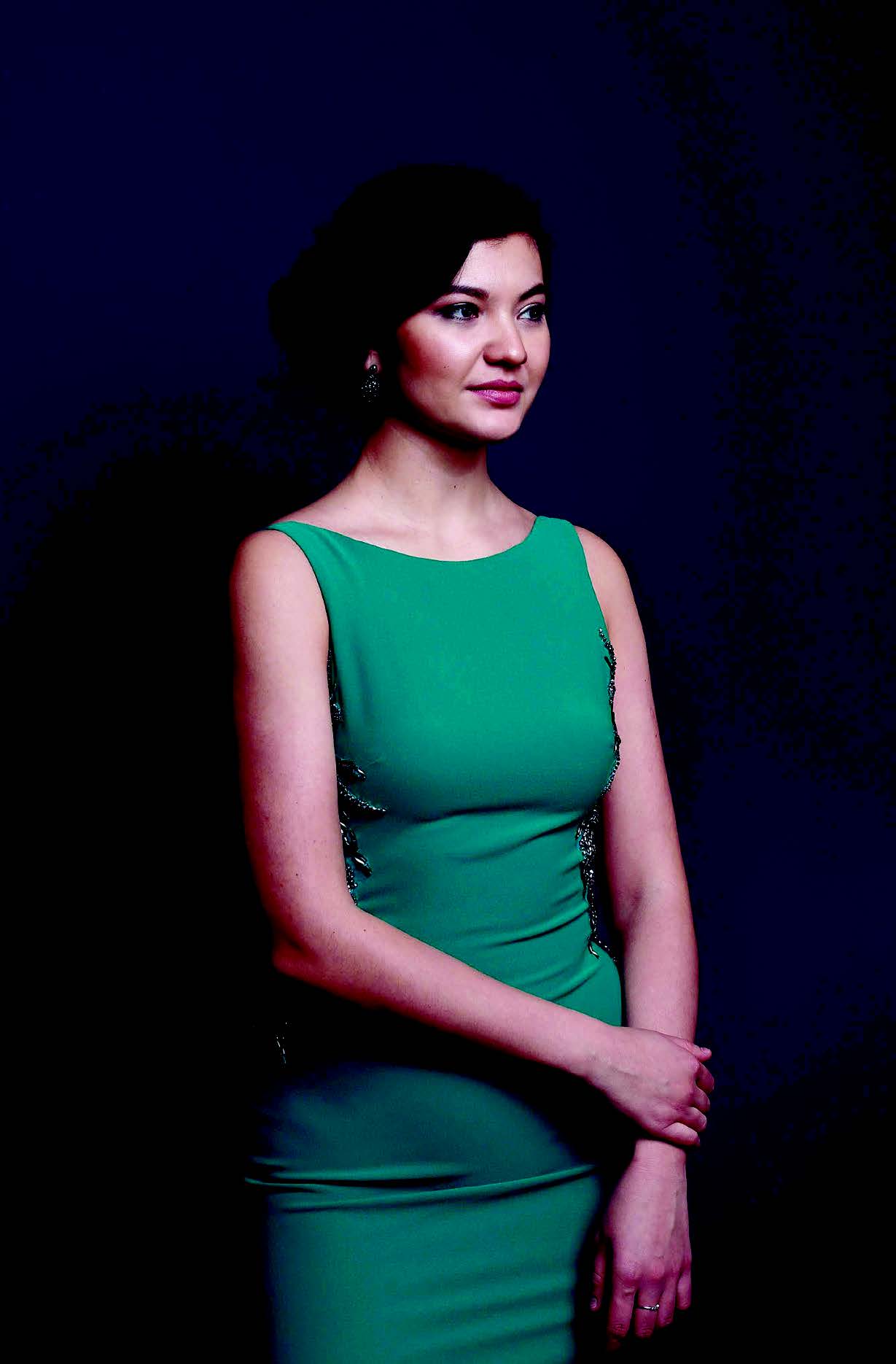 Aigul Akhmetshina
Listening to the past
Many renowned opera singers of the past have been drawn to Maria Stuarda because of its wonderful melodies and enthralling story. Do they offer inspiration to modern-day singers who take on these roles? Mkhitaryan: "I'm always interested in how singers from the past tackled the role — that old-fashioned style from the days of the great divas. But nowadays we need to study the score closely and try to perform what is actually written." Akhmetshina: "I think in the past opera was focused too much on the singing, whereas now the acting comes into it more, which I really like. After all, theatre is about acting. If we only wanted to be singers, we could just as easily do a concertante version. In the theatre, we have an opportunity to transform ourselves into different roles, each with their own individual character."
Forced into rivalry
In this specific opera, the roles tend to be seen in terms of opposites: Maria as the embodiment of everything that is pure and good, and Elisabetta as the traditional villain. Akhmetshina: "Of course this opera is about the confrontation between two strong women, but at the same time, our production shows how both women are in a vulnerable position. We see them not just as queens but also as flesh-and-blood people. We don't just show the surface; we try to dig deeper and reveal the different sides to the story. Elisabetta doesn't kill Maria purely because she sees her as a rival – it's much more complicated than that."
Mkhitaryan: "This production shows how the two women have grown to become who they are now, and how their early years affected and formed them. One of the ideas is that if the women could talk candidly to one another, woman to woman, and show their true selves, they might be able to make peace. But the men around them won't allow that. These women are like two animals thrown into a cage. The men want to see them fight." Akhmetshina: "As soon as they show signs of friendship, they risk being seen as a weak queen, and they can't allow that to happen."
'We don't just see the two women as queens'
Fact and fiction
Akhmetshina: "Whenever I start on a role like this, the first thing I do is study the history. But the opera is not quite the same as the history. Mary and Elizabeth never actually met. But an opera tells a story and that means we need to introduce some fiction where necessary. For example, Kristina and I are good friends in real life. Everyone always tells us we are like sisters. So as singers we need to go that bit further for this production, show something different on stage with moments of fear and even hatred." Mkhitaryan: "But in real life too, you see that people who are extremely close can have the fiercest arguments, the worst conflicts, precisely because of the intense bond."
Protecting the voice
Mkhitaryan and Akhmetshina are two young singers whose careers have taken off in the past few years. How do they look after their voices and how do they resist the temptation to take on too much too soon? Akhmetshina: "I think the most important thing is to make sure you keep singing with your own voice rather that trying to copy someone else. If you sing a repertoire that suits your voice and is comfortable for you and if you don't force it, that helps to develop your voice in a natural way. We also need to realise that while we are trying to achieve a certain degree of perfection, true perfection doesn't exist. In a sense, there isn't really a right or wrong way to sing. If you look at the singers whose careers ended early, I think the problem was often that they stopped learning and practising. As a singer, you need to constantly adapt. If you gain two kilos in weight, that requires an adjustment in your muscles. If you lose weight, you also have to adapt to that. You even have to make adjustments if you get tired."
Mkhitaryan: "It's essential to get rest. It is so important to give yourself some space now and then, especially if you feel you are at risk of exceeding your limits. It's better then to ease off a bit. Sometimes it's a good idea just to have silence, switch your mind off and do something completely different. We depend on our vocal cords, those incredibly tiny muscles, and they really need the rest."
Looking towards the future
For Mkhitaryan, singing Maria Stuarda on stage is a dream come true. But what else does the future hold for these two performers? Are there other roles they would really love to sing? Mkhitaryan: "This was my dream and I'm so happy that I'm getting this chance. I was actually supposed to be singing Musetta in La bohème for the Metropolitan Opera in New York, and I'm really grateful they released me from my contract so I could take part in this production. I would quite like to sing Verdi's Luisa Miller in a few years' time, and Handel's Alcina! I have only performed that role once and I would like to sing it more often.
I will also be making my debut as Tatyana in Tchaikovsky's Eugene Onegin, another fantastic role!" Akhmetshina: "After Maria Stuarda, I will be singing Charlotte in Werther in London's Covent Garden, followed by a Romeo in Bellini's I Capuleti e i Montecchi in Salzburg. It's nice singing different roles because it helps you discover how your voice works. It develops further after each new project. Hopefully in ten years or so I'll start singing the more demanding repertoire, such as Eboli and Amneris in Verdi's Don Carlos and Aida, and Dalila in Saint-Saens' Samson et Dalila!"
Maria Stuarda will be performed from 6 to 28 May at Dutch National Opera & Ballet