Jetske Mijnssen - rehearsel Maria Stuarda | Photo: Ben van Duin
A conversation with Jetske Mijnssen
21 April 2023
From 

18 April to 6 May 2024

, the third and final part of the Tudor trilogy, directed by 

Jetske Mijnssen

, can be seen at Dutch National Opera & Ballet: 

Roberto Devereux

.
When Jetske Mijnssen began her career as a director, there were few women in her profession. Nowadays, however, she has several female colleagues in the Netherlands, and in Germany in particular female directors are increasingly making their mark. This is an important development, she says, and is leading to a fresh perspective on opera. This spring [2023 ed.], Mijnssen will direct Maria Stuarda, the second part of Donizetti's three-part opera series on the Tudor trilogy, at Dutch National Opera. 
Text: Anneke Groen 
I caught up with Mijnssen over FaceTime. At the time, she was in Prague directing Kleider machen Leute, an unusual and relatively unknown opera by Alexander Zemlinsky based on a book by Gottfried Keller. The story revolves around a tailor who is introduced as a count when he travels to another town, and it's a comedy with simple characters, unlike the operas about Elizabeth I and Mary Stuart. When I mentioned to Mijnssen that an opera only moves me when the music and direction are in perfect harmony, and as a spectator, I 'forget' the direction, without the music being too dominant, she explained how she achieves this harmony.  
For Mijnssen, it all starts with listening to the music. "It's an intuitive process," she says. "I often begin by listening to neutral recordings that others may not find interesting, without reading the libretto first. This way, I can put my own meaning into it more effectively. There's always something in music that moves me. By listening, keywords come to my mind, and that's how I figure out what it's about. Music is at the heart of an opera." 
Emotions
Mijnssen then discusses her ideas with the artistic designers around her. Unlike others, she doesn't come up with images; rather, she focuses on emotions. Then, she tries to find a way to make these emotions concrete. What touches her deeply is the human nature of the characters in opera. "Opera characters are often depicted in black and white," she notes. "But I look for shades of grey and everything that's between the lines. This way, I can eliminate caricatures and bring out all the layers of a personality." 
Interestingly, Mijnssen stumbled upon directing by accident. She had initially wanted to become an actress or singer, but during the 12th grade of the Free School, she was given the task of directing her own class in a performance of Purcell's Dido and Aeneas. "It was a profound experience," she recalls. "It was the first time I felt the magic of bringing music and theatre together. It awakened something unprecedented in me and although I'd never given consideration to the profession before, I eventually decided to attend the directing school in Amsterdam, specializing in opera directing."  
Female perspective 
In 2000, Mijnssen attended a workshop led by director Willy Decker, who was working on Otello. She was tasked with creating a story about the character of Desdemona, the Venetian beauty. During the workshop, Decker made an observation that struck a chord with Mijnssen. He said, "It is so necessary now for women to narrate operas. We've seen opera through the eyes of men for years - but you intrinsically just look at it differently from me". But I didn't fully grasp his point. At the time, I couldn't see how being a woman or a man would make a difference. However, with the increasing number of women directors, opera directors, and conductors, I now understand what he meant. It's an important development that we now have a wider range of perspectives in the world of opera." Mijnssen also learned a lot from Decker during the workshop. While working on Otello's quartet, she faced a creative block and spent a sleepless night crying in a horrible youth hostel, convinced that she couldn't direct at all. The following day, Decker took my hand and said, "You've been crying all night." I said it was true, to which he revealed, "I cry a lot too." It caught me off guard. Then he added, "Let it go. You can do that quartet another time. Now, choose something else." This experience taught me that in this profession, there are times when you lie awake worrying about a project and that's best to put it away for a while, because your subconscious mind continues to work on it. Then after while, you'll suddenly come up with the solution while doing a mundane task, like washing the dishes.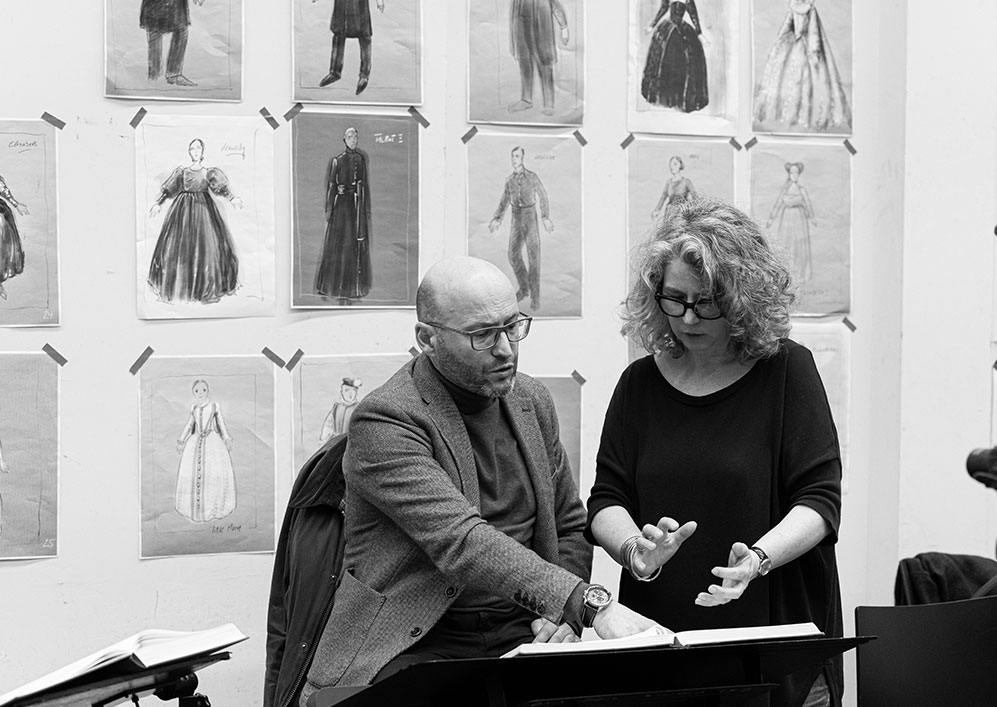 Jetske Mijnssen with director Enrique Mazzola - rehearsel Maria Stuarda | Photo: Ben van Duin
Multi-layered characters 
In her work, Mijnssen always seeks dialogues – both within the opera's narrative and on the production floor with the singers. As a result, she rarely encounters resistance in her approach. "Fortunately, I usually work in theatres where everyone is passionate about creating theatre. And I invest a significant amount of time in building personal relationships." 
For instance, Mijnssen had been discussing the three Donizetti operas with Enrique Mazzola for years. "As a conductor, he knows more about the music than I do, so if I want to remove a section and Enrique says, 'You really shouldn't do that!', I'm generally willing to listen. However, if he says, 'Donizetti didn't intend it that way,' I'm less interested. So, he enriches me with his knowledge of bel canto and the compositions, while I surprise him with my insights into the characters." 
'I want to make Mary and Elisabetta multi-layered characters' 
In Maria Stuarda, Mijnssen sees the role of Elisabetta as crucial, in addition to Maria. "My goal is to present a more nuanced Elisabetta and, conversely, a more vibrant Maria. I want to portray both women as complex, multi-layered characters. Simultaneously, I aim to capture the obsession they had with each other. They never met, but I'm sure – especially during Maria's imprisonment – they thought of each other daily. As powerful queens of England and Scotland, why couldn't they join forces? It will be a distinct experience from Anna Bolena, the first instalment in the series. It will be slightly less realistic, but delve more into fears, nightmares and obsessions." 
Challenge 
When not in rehearsals, Mijnssen often finds herself alone in a hotel, sometimes away from home for extended periods. "I always miss my family, my dog, and walking in the dunes. But being alone is beneficial for the creative process. You're bombarded with information every day, constantly needing to be alert and provide energy, so that rest is essential. A rehearsal period lasts six weeks—if someone suggests it can be done in four, I won't do it. I'm currently preparing seven pieces simultaneously, each in different stages. La clemenza di Tito in Copenhagen is ready. After returning from Prague, I'll finalize preparations for Maria Stuarda. The set has already been built, and the costumes are in progress; just a little more patience, and then we can begin. There are also many incredible productions planned for the coming years – exciting and challenging work in amazing theatres. I'm a happy person." 
Maria Stuarda could be seen at Dutch National Opera & Ballet in May 2023.
From

18 April to 6 May 2024

, the third and final part of the Tudor trilogy, directed by

Jetske Mijnssen

, can be seen at Dutch National Opera & Ballet:

Roberto Devereux

.