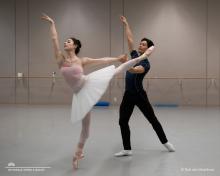 Photo: Rob van Woerkom
World Ballet Day
Tuesday 19 October is World Ballet Day! 50 renowned companies from all over the world will celebrate the art of dance with you and give a unique insight into their ballet studios through free streams.
Celebrate World Ballet Day with us on 19 October and enjoy this festive day full of dance!
Dutch National Ballet's contribution to this eighth edition of World Ballet Day consists of a live stream of a full company class and a pas de deux from the brand new production of Raymonda, which will be premiered this coming spring.
Raymonda
For the first time in the Netherlands, we are presenting our own production of Marius Petipa's legendary ballet Raymonda; a sample sheet of classical ballet technique, which is famed for its wonderful character dances. Associate artistic director Rachel Beaujean – assisted by a team that includes Ted Brandsen and Grigori Tchitcherine – is creating a completely new version of this masterpiece of the Russian ballet. The choreographic splendour will be retained, but the story will have an exciting new twist.
Rachel Beaujean, Maia Makhateli and Qian Liu | Photo: Altin Kaftira
Maia Makhateli and Young Gyu Choi | Photo: Rob van Woerkom
Maia Makhateli and Young Gyu Choi | Photo: Rob van Woerkom
Rachel Beaujean | Photo: Altin Kaftira
Watch the ballet class of World Ballet Day 2020
World Ballet Day
World Ballet Day is an annual celebration of ballet, held in the month of October. On this day, ballet companies around the world give a unique glimpse behind the scenes with live streams of rehearsals, previews of new productions and the biggest stars of ballet in action!
Maia Makhateli and Young Gyu Choi | Photo: Rob van Woerkom
Maia Makhateli and Young Gyu Choi | Photo: Rob van Woerkom
Can't get enough of Ballet? Discover more than 3,487 hours of: