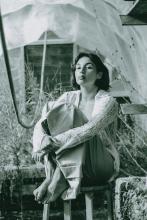 Melisa is a Kurdish/Indonesian mover who attempts to leave a bit of herself wherever she travels while also taking something with her wherever she goes. She began as a dancer in the working field at The Voice of Holland/Vlaanderen, Idols, and events overseas, among others, where she learned a lot. She currently works mostly as a mover in theatres for various shows, companies, poets, and events. LENTE, directed by Ryan Djojokarso in cooperation with opera vocalist Bernadeta Astari, is the most recent piece she has toured the country with.
She graduated from the dancing academy Lucia Marthas seven years ago and has had the opportunity to taste and learn on the job constantly. She is now ready to tell her story and engage in talks with anyone who is interested. What she brings with her and what information she has in uncharted regions she may impart via her discipline, and movement.
Melisa is a creator who begins with the power of origin. "Anything that moves dances". She blends Kurdish dance (which she refers to as "sound in the moment") with her own movement language. That which both links and opposes us.
Last update: 7 June 2023