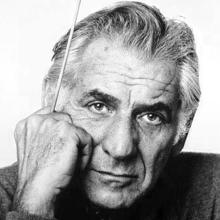 Photo: Jack Mitchell
Leonard Bernstein
Composer
Leonard Bernstein (1918-1990) was an American composer, conductor, pianist and music teacher. He was one of the most famous and successful artists in the field of American classical music.
Bernstein studied at Harvard University and at the Curtis Institute of Music in Philadelphia. In 1943, he suddenly rose to fame when he replaced conductor Bruno Walter, who had fallen ill, at a concert in New York that was also broadcast on CBS Radio. Afterwards, he conducted various orchestras, both in the United States and Europe, and he was principal conductor and artistic director of the New York Philharmonic from 1958 to 1969. Bernstein was also the first conductor to share his musical performances with a mass audience on television. Through many national and international broadcasts, including the Emmy Award-winning Young People's Concerts, he made classical music accessible and inspired several generations of young musicians. From the 1950's, Bernstein also became famous as a composer, creating various orchestral works, operas and musicals, the best-known of which is his Broadway classic West Side Story (1957).
At the end of his life, he conducted two historic performances of Beethoven's Symphony No. 9 – on 23 December 1989 at the Philharmonie in West Berlin, and on 25 December 1989 at the Schauspielhaus in East Berlin, to celebrate the fall of the Berlin Wall.