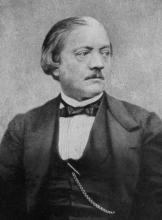 Jules Perrot
Choreographer
Frenchman Jules-Joseph Perrot (Lyon, 1810 - Paramé, Brittany, 1892) made his debut as a dancer in Paris. He then danced as a soloist with the King Theatre in London, and afterwards with the ballet company of the Théâtre de l'Académie Royale de Musique (the Paris Opéra), where he quickly achieved tremendous success with star soloist Marie Taglioni. He then travelled throughout Western Europe as a guest dancer and choreographer.
He met soloist Carlotta Grisi in Naples, with whom he had a romance and toured Europe. Grisi was hired by the Paris Opéra in 1841. Despite not being hired, Perrot collaborated closely with Grisi and ballet master and choreographer Jean Coralli on the production of Giselle. However, because Perrot was not on the payroll of the Paris Opéra, his work was not officially acknowledged in the ballet's credits.
Perrot worked as a ballet master and choreographer at Her Majesty's Theatre in London from 1843 to 1848. He then held the same position at La Scala in Milan before becoming head ballet instructor at the Imperial Theatre in St. Petersburg in 1851. He returned to Paris in 1859, where he taught at the Paris Opéra and was immortalised by Edgar Degas in his picture La classe de danse in 1876.