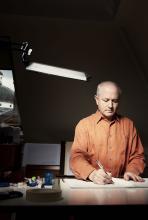 George Benjamin: 31th January 1960
Principal works: Palimpsests, Dream of the Song, Into the Little Hill, Written on Skin, Lessons in Love and Violence
School: Modernism
Principal distinctions: Arnold Schönberg Prize, Commandeur dans l'ordre des Arts et Lettres, Knight Bachelor.
Benjamin and opera
George Benjamin was 46 years old when he wrote his first stage piece. It took him a long time to find a librettist who could inspire him. His meeting with Martin Crimp tapped into a new creative vein. The first opera, Into the Little Hill (2006), was followed by Written on Skin (2012) which was commissioned by the Aix-en-Provence festival and which has been performed in over 20 opera houses worldwide since then. Lessons in Love and Violence, was premiered at The Royal Opera House in London in May 2018. Dutch National Opera followed with a series of performances, as part of Benjamin's residency at the Holland Festival in June.
Youth and studies
George William John Benjamin was born on 31 January 1960 in London. His father was a publisher and his mother was a designer and an antique dealer. He started playing the piano at the age of seven, and started composing almost immediately; from the age of 13 he was taught by pianist/ conductor Peter Gellhorn. At the age of 16, he went to the Paris Conservatory, where he studied composition with Olivier Messiaen and piano with Yvonne Loriod. He completed his studies at King's College Cambridge under Alexander Goehr.
Proms
Even before Benjamin finished his studies, his orchestral work Ringed by the Flat Horizon was performed on the Proms of 1980, under the direction of Mark Elder. Benjamin thus became the youngest (still living) composer ever to have performed a work at the Proms. In the years that followed Benjamin wrote a number of orchestral works, including A Mind of Winter (1981) and At First Light (1982). His Antara (1986) for ensemble and electronics was commissioned for the 10th anniversary of the Pompidou Centre in Paris.
Benjamin as conductor
In 1999 Benjamin conducted an opera for the first time: Pelléas et Mélisande by Debussy at la Monnaie in Brussels. He regularly conducts world premieres of new pieces and works with the best orchestras in the world, such as the London Sinfonietta, the Mahler Chamber Orchestra, the Ensemble Modern, the Berliner Philharmoniker and the Royal Concertgebouw Orchestra. During the 2002-2003 season the London Symphony Orchestra presented a year-long series of concerts called "By George!".
Nowadays
In recent years Benjamin has been busy writing vocal works and operas. He teaches composition at King's College London. He receives assignments from all over the world. In the 2018-2019 season, the Berliner Philharmoniker Foundation will be focusing on his work: seven concerts will be devoted to his works, three of them during Musikfest Berlin. Another large-scale portrait of his work will take place throughout the same season in Hamburg's new Elbphilharmonie.
Photo: Matthew Lloyd