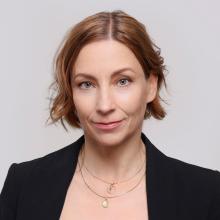 Photo: Jan Willem Kaldenbach
Sandrine Leroy
Choreologist
Sandrine Leroy (Rouen, France) trained at the Conservatoire de Rouen and went on to dance with the ballet companies of Théâtre des Arts in Rouen, the Grand Théâtre in Reims, the Grand Théâtre in Dijon and Ballet de l'Opéra-Théâtre de Metz Métropole, where she performed in classical ballets and contemporary works.
In 1995, Leroy started working as a freelance dancer and assistant theatre director. In 2005, she graduated with distinction in Benesh Notation from the Conservatoire National Supérieur de Musique et Danse in Paris and went on to work as a freelance choreologist with Ballet de Lorraine in Nancy and the Conservatoire National Supérieur de Musique et Danse in Paris.
In 2007, Leroy joined Dutch National Ballet as a rehearsal director and choreologist. Since then, she has rehearsed parts of all the full-length ballets and worked with choreographers like Sidi Larbi Cherkaoui, Nicolo Fonte, Benjamin Millepied, Shen Wei, Emio Greco en Pieter C. Scholten, Dominique Dumais, Jorma Elo, Juanjo Arqués, Annabelle Lopez Ochoa, George Williamson, Sasha Waltz and Wayne McGregor. In recent years, she has also carried out regular activities abroad. For Pacific Northwest Ballet in Seattle, she rehearsed parts of Alexei Ratmansky's Don Quixote, for Polish National Ballet she rehearsed Krzysztof Pastor's The Tempest, and for English National Ballet she was involved in rehearsing Christopher Wheeldon's Cinderella.