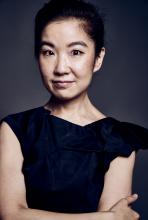 Sebastien Galtier
Ryoko Kondo (Kyoto, Japan) studied piano at the Toho Gakuen School of Music in Tokyo and at HKU Utrechts Conservatorium, where she was taught by Sumiko Nagaoka and Ton Hartsuiker. She also studied with Vitaly Margulis in Freiburg (Germany). Kondo took violin lessons from Victor Lieberman and Philip Hirschhorn, and lessons in song accompaniment from Udo Reinemann.
In 1996, Kondo joined Dutch National Ballet as a pianist. She also gives regular recitals in Japan, the Netherlands and other European countries.
1990: third prize Eduard Flipse International Piano Competition (Rotterdam)

1990, 'Vriendenkrans' award, Society of Friends of the Concertgebouw.