Location
Dutch National Opera & Ballet, Main Stage
Running time
3:10, incl. 2 intermissions
Jewel in the crown
Sir Peter Wright's The Sleeping Beauty has been the jewel in the crown of Dutch National Ballet's repertoire for over forty years. This season, the company is awakening the glittering Sleeping Beauty with a kiss no fewer than 21 times, in the period from mid-October to the beginning of January. The demanding variations, brilliant pointe work and pure classical technique make this nineteenth-century fairy-tale ballet the ultimate touchstone for ballet dancers all over the world today. 
Photo: Marta Syrko
Credits
Choreography Marius Petipa
Production and direction Sir Peter Wright
Music Pjotr Iljitsj Tsjaikovski
Musical accompaniment Dutch Ballet Orchestra
conducted by  Ermanno Florio (Oct, Nov) en Koen Kessels (Dec)
The recommended age for this performance is 8+.
Ticket prices
Check out the ticket prices per price category via the link below.
Order tickets
Loading tickets...
Teaser The Sleeping Beauty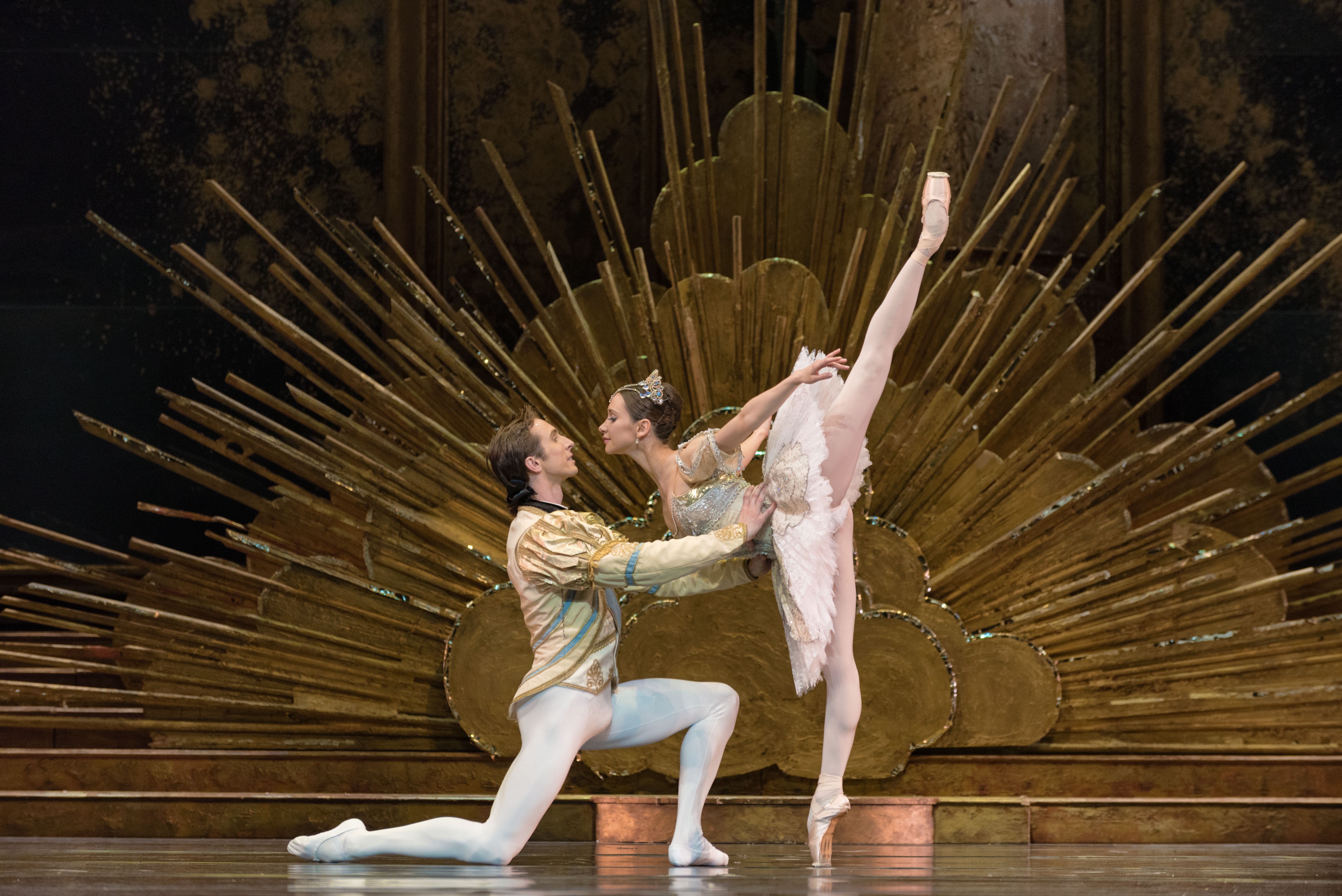 The Sleeping Beauty (2017) | Photo: Marc Haegeman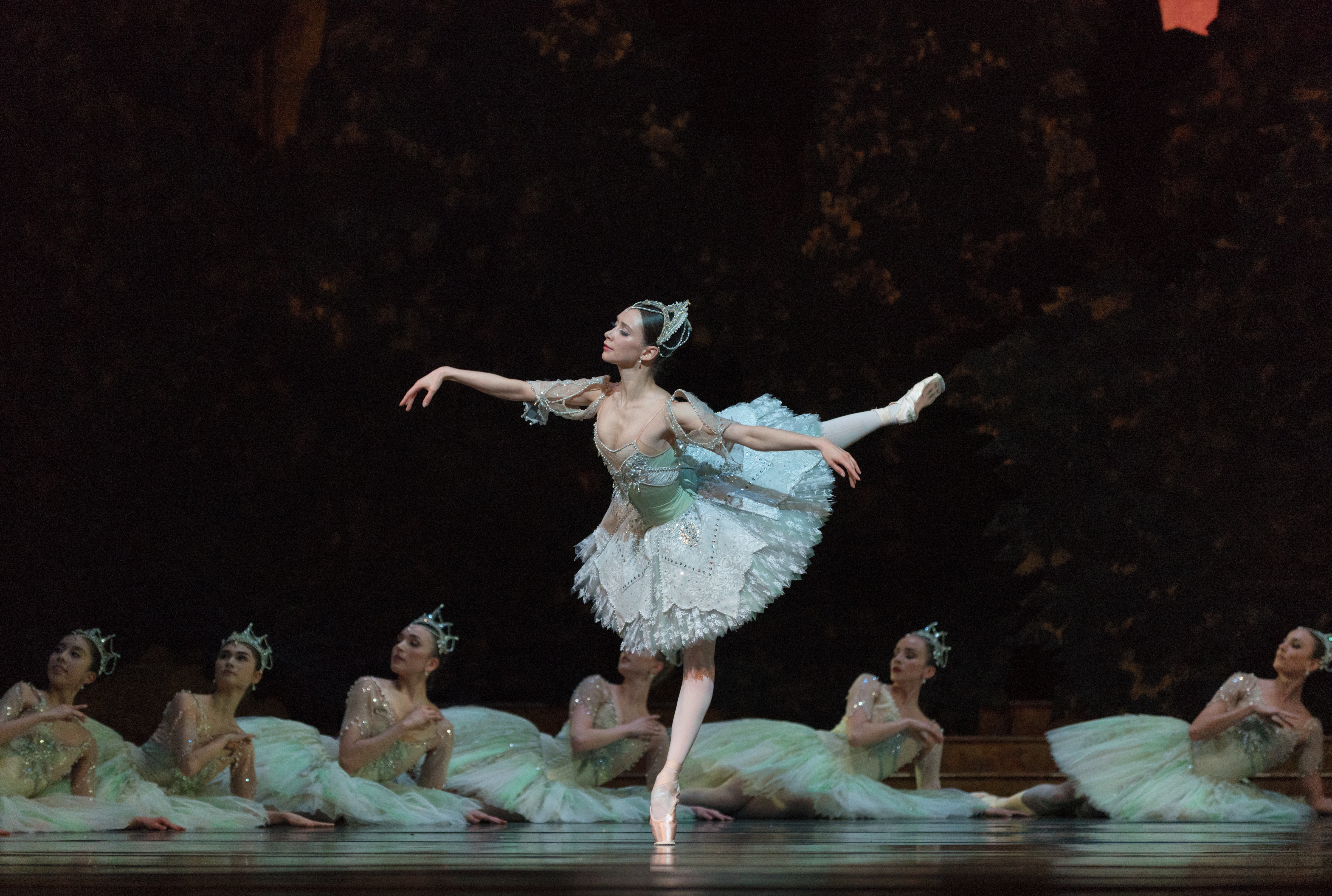 The Sleeping Beauty (2017) | Photo: Marc Haegeman
The Sleeping Beauty (2017) | Photo: Marc Haegeman
The Sleeping Beauty (2017) | Photo: Marc Haegeman
Dutch Ballet Orchestra
Dutch Ballet Orchestra's mission is 'to inspire movement in dance'. Since its inception in 1965, the orchestra has been the proud musical partner of Dutch National Ballet and Nederlands Dans Theater. In every performance, the orchestra searches for inspiring synergy between music and dance, in order to give the audience a magical experience.
Introduction
Almost every performance at Dutch National Opera & Ballet is preceded by an introduction, with background information that can deepen your theatre visit. The introductions are in Dutch and admission is free by showing a valid ticket.
Introduction The Sleeping Beauty by: Lin van Ellinckhuijsen (12, 14, 25, 29, 30 Oct; 5 Nov; 20, 24, 27 Dec and 1 Jan) and Klaas Backx (other data) 
Time: 45 minutes before the start of each performance
Location: Odeonzaal (12, 14, 15, 19, 20, 21 and 25 October) and 2nd balcony (other data)
Family introductions will take place on 27 December, 29 December and 2 January. The family introduction is open to anyone with a valid ticket to that day's performance and will take place in the foyer from 13:15 to 13:45. More information
The story of The Sleeping Beauty
In short
All the fairies are invited by King Florestan to attend the christening of his daughter Aurora. Only Carabosse is not invited. Distraught, this angry fairy bursts in and wishes that Aurora will one day die by pricking herself on the needle of a spinning wheel. The Lilac Fairy manages to turn this curse into a wish for Aurora to sleep for 100 years and be kissed awake by a prince. When Aurora, at the age of 16, indeed pricks herself on such a needle, she falls down. The Lilac Fairy appears and soon puts everyone in the court to sleep. The castle becomes overgrown. And then, 100 years later ...
Rehearsals The Sleeping Beauty - Maia Makhateli | Photo: Altin Kaftira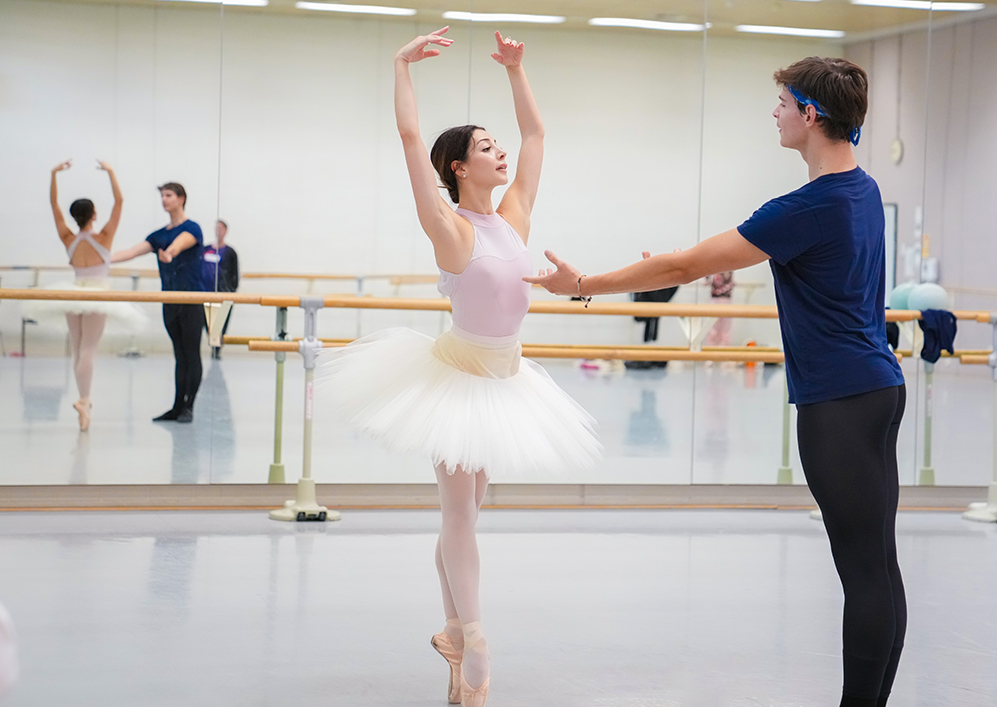 Rehearsals The Sleeping Beauty - Maia Makhateli and Jakob Feyferlik | Photo: Altin Kaftira en Jakob Feyferlik | Foto: Altin Kaftira
Rehearsals The Sleeping Beauty - Olga Smirnova - Victor Caixeta | Photo: Altin Kaftira
Rehearsals The Sleeping Beauty - Olga Smirnova | Photo: Altin Kaftira
Rehearsals The Sleeping Beauty - Olga Smirnova | Photo: Altin Kaftira
Rehearsals The Sleeping Beauty - Anna Ol and Young Gyu Choi | Photo: Altin Kaftira
Rehearsals The Sleeping Beauty - Anna Ol | Photo: Altin Kaftira
Rehearsals The Sleeping Beauty - Anna Ol and Young Gyu Choi | Photo: Altin Kaftira
Rehearsals The Sleeping Beauty - Young Gyu Choi | Photo: Altin Kaftira

11 December
In these dark days (dark in many respects), Peter Wright's The Sleeping Beauty is a wonderful temporary escape from daily reality
11 December
Oh's and ah's from the audience, (...) This enchanting fairy tale ballet shines in Peter Wright's production as a timeless gem
11 December
If you've never been to a great classical ballet performance, this is one to start with
Performance Clip The Sleeping Beauty
Can't get enough of Ballet? Discover more than 3,487 hours of:
ballet classes

behind-the-scenes videos

interviews & articles

fragments

games & quizzes