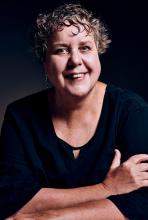 Bernadette Bouthoorn
Soprano
Bernadette Bouthoorn has been singing with the Chorus of Dutch National Opera since the 1990s, first as a freelancer and since 2001 as a permanent member. She developed her passion for ensemble singing with professional choirs in the Netherlands and Belgium, including the Nederlands Kamerkoor, the Groot Omroepkoor, La Chapelle Royale, Collegium Vocale Gent and Opera Forum. She also performed regularly as a soloist with various companies, both in the Netherlands and abroad.
She chose to sing with the Chorus of DNO because of the combination of acting and singing. According to Bernadette, the advantage of this combination is that you can sing with theatrical action and by heart. It is wonderful, for example, to be banished to Siberia in the 'cold' and perform a beautiful Russian choral piece together at the same time.
Bernadette tries to turn every opera in which she participates into her favourite.