"It's about a 'new beginning' that is happening now"
21 September 2021
Raphaël Pichon and Romeo Castellucci go back to the roots of opera.
Raphaël: "For years I've wondered how a masterpiece like Monteverdi's L'Orfeo could come into being. Of course I know Monteverdi was a genius, but our knowledge of the genesis of opera is incomplete. The foremost goal of this project is to pay homage to a unique period in the history of music. In Florence, the period between the 16th and early 17th centuries was a time when artists from various disciplines worked together in a unique quest. They explored how human passions could be translated to the stage. It goes without saying that love played a major role."
Romeo: "Love is a leitmotif in the music of Le Lacrime di Eros. It's the backbone of a language poets developed to retell old stories, to grasp new problems and discoveries. In the music that we chose with Raphaël, love also reveals its negative side. It's never fulfilled, but always laden with longing, tears, pain. The texts are full of bitterness and emptiness. But emptiness is also an opportunity for creation, for
forming images that touch our souls."
Raphaël: "We present a unique repertoire onstage, with work by composers such as Peri, Caccini, Marencio and Striggio, important and very talented composers, but rarely performed. It's a broad repertoire:
intimate monophonies alongside enormous madrigals. But by going back to the roots we aren't offering a museum experience or a reconstruction. It's about how we can view that period today, how we can delve into the music from a present-day perspective."
Romeo: "The origin of the Renaissance lies in the rediscovery of the classic world. It observes the creases of the past with new eyes and presents to us a new feeling. The reference to the Renaissance calls up the original definition of the word: 'a rebirth'. In the same way, Le Lacrime di Eros is about a 'new beginning' happening today following
the tribulations inflicted on us by nature and history."
Photo: Slava Filippov
Italian theatre and opera director and playwright. He is known for his radical imagery and utterly gripping productions. For Dutch National Opera he previously directed Hans Werner Henze's Das Floß der Medusa.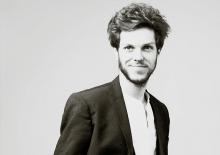 Photo: François Sechet
French chorus and orchestra conductor, whose artistic practice is firmly
rooted in scholarly research. In 2006 he established ensemble Pygmalion,
which explores the interconnections between Bach and Mendelssohn, Schütz and Brahms, or Rameau, Gluck and Berlioz using historical instruments. For Dutch National Opera, he previously conducted Monteverdi's Mariavespers.