Photo: Chloé Desnoyers
Interview with soprano Johanni van Oostrum about her title role in Rusalka
11 May 2023
'Her emotional development is incredibly fascinating'
Even as a three-year-old, Johanni van Oostrum couldn't get enough of the music of American soprano Leontyne Price. "I kept asking my mother to play her records," she recalls. Now, many years later, she's preparing to take on the title role in Rusalka at Dutch National Opera & Ballet this June. I asked her what she expects from this exciting new experience.
Text: Lune Visser
Van Oostrum, who was born in South Africa and received her vocal training in Pretoria, got her start with the Black Tie Opera Studio. But she soon realized that she wanted to explore the international opera scene. "I auditioned several times for Opera Zuid, the opera company in Maastricht," she explains. "It took three tries, but after Janny Lobbezoo and Martine Straesser – a pianist I often worked with and a fellow singer – recommended me, I was finally given the opportunity to visit."
Leap of faith
At Opera Zuid, Van Oostrum was given the opportunity to perform three major roles, which proved to be valuable learning experiences. "I learned an awful lot as a result," she says. Her big break came when she was asked to step in for soprano Anne Schwanewilms in the 2011 revival of Willy Decker's Der Rosenkavalier at De Nederlandse Opera (now Dutch National Opera – ed.). "There was so little time, there was no opportunity for me to rehearse either..."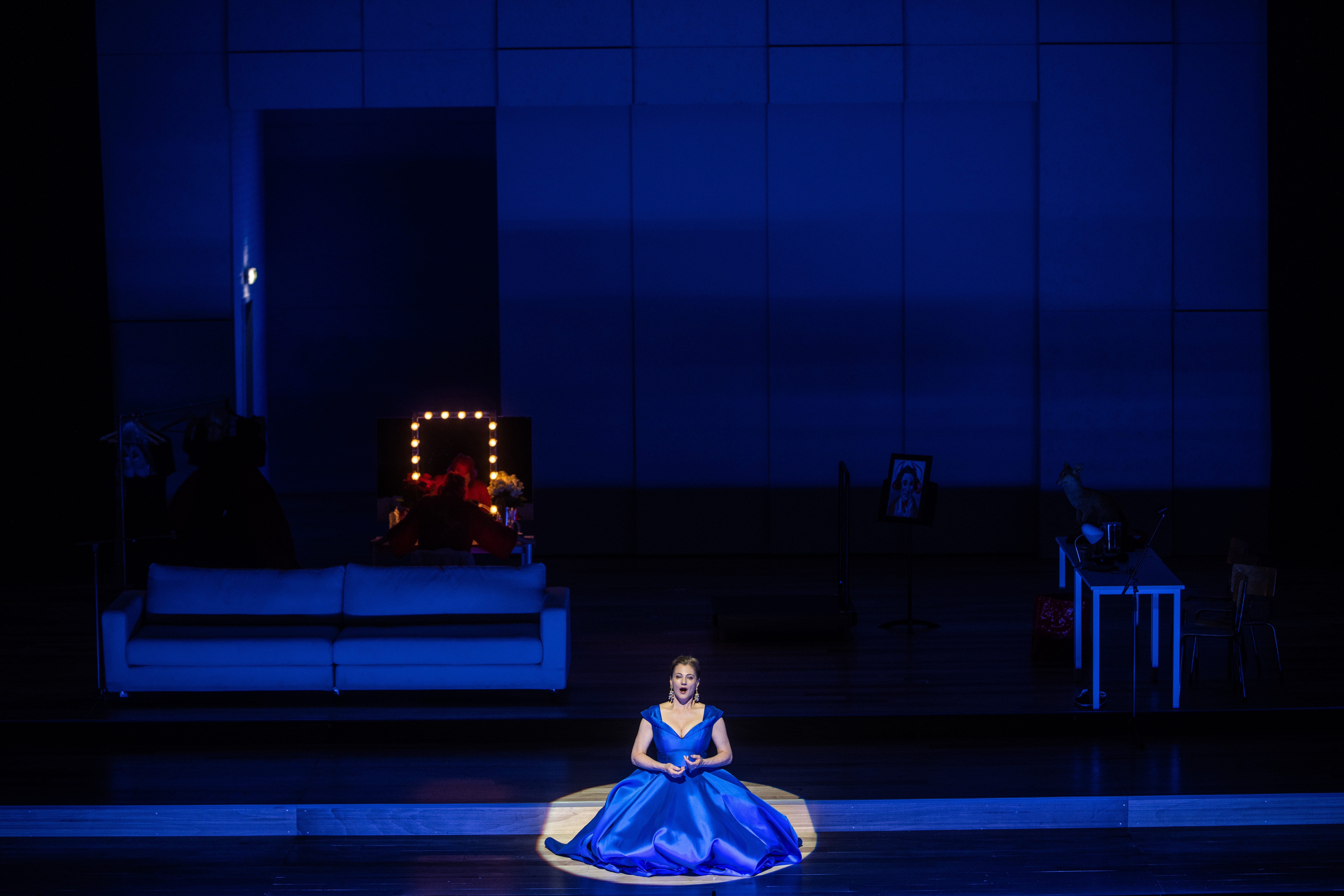 Johanni van Oostrum as Agatha in Der Freischütz (2022) | Photo: Bart Grietens
Fortunately, a conversation with conductor Sir Simon Rattle just before the performance put her nerves at ease. "Johanni, what an adventure!" he said, offering his support. Her daring move paid off and opened doors for her in the opera world in Germany, where she currently lives and works regularly. "They say fools rush where angels fear to tread – and that was certainly true of me at the time," she reflects. "However, this 'foolish' leap of faith worked out incredibly well."
Johanni van Oostrum may have performed in many operas before, but her upcoming role as Rusalka will be her first. "I am looking forward to it immensely!" she exclaims. "I love the music, and the emotional development of the character Rusalka interests me enormously. Her circumstances are very complicated, so she goes through a profound personal development. It's fascinating to dive into that and explore how I can best do justice to it on stage."
'In my profession, challenges are always welcome and inspiring'
The story of Rusalka bears similarities to the fairy tale The Little Mermaid: the water nymph Rusalka yearns to become human so that she can live on land with her dream prince. A sea witch offers to help her, but only in exchange for her voice. "The second act is therefore quite a challenge," Van Oostrum admits, "because I spend most of that part in silence. That is not easy for an opera singer who is used to expressing herself mainly with her voice. Fortunately, challenges in my profession are always welcome and inspiring, so I will make sure I bring the same expression to the stage with physical communication!"
Exploring a fresh perspective
In the upcoming production of Rusalka, the directing team has planned an interesting and special interpretation, with some changes to the original story, such as Rusalka not being a water nymph. "I can't wait to explore this with them," says Johanni van Oostrum, who is excited to work with Philipp Stölzl, a director she has not worked with before but admires for his style. She also appreciates the artistic talent and supportive nature of the other director, Philipp M. Krenn, whom she has collaborated with previously. "It gives a lot of energy to work in a positive team where everyone supports each other," she says.
Van Oostrum has previously worked at Dutch National Opera and is thrilled to be returning to Amsterdam, where, she says, the high standard of quality makes for a hugely stimulating workplace. "The creative teams at Dutch National Opera & Ballet as well as the Amsterdam audience are very open-minded and open to deviations from old, familiar patterns of thinking. I expect Rusalka to be an extraordinary experience for both myself and the audience.
The opera 

Rusalka 

will be performed at Dutch National Opera & Ballet from 2 to 25 June.
Johanni van Oostrum
South African soprano Johanni van Oostrum celebrates worldwide successes with her interpretations of roles in operas by Strauss, Wagner, Mozart and Janáček. Her repertoire includes Elsa in Lohengrin and Leonore in Fidelio, as well as the title roles in Strauss' Salome and Janáček's Jenufa and Katja Kabanova. She has previously worked with conductors such as Sir Simon Rattle, Kirill Petrenko and Adam Fisher and directors such as Harry Kupfer, Tobias Kratzer and Kornél Mundruczó. At Dutch National Opera, she previously sang the Marschallin in Der Rosenkavalier and Agathe in Der Freischütz, singing the latter role in London, Aix-en-Provence, Paris, Brussels, Vienna and Luxembourg.