The future of Dutch National Ballet
22 September 2021
Young Creative Associates Milena Sidorova, Sedrig Verwoert and Wubkje Kuindersma
Erwin Olaf
Milena Sidorova is a dancer and Young Creative Associate with Dutch National Ballet. She has choreographed 25 works, mainly for Dutch National Ballet and the Junior Company. She made her choreographic debut at the age of 15, with her work The Spider, which has had over 15 million views on YouTube.
"I seldom create classical ballets. And the music I choose can be rather discordant, as well. My work has to be a bit quirky: distinctive and refreshing. I develop my own choreographic idiom with surprising movements and unusual coordination. I like to refine that idiom with the dancers, so that you can see what works for them in practice.
Over the past year, ballet has become more accessible than ever. You can find countless dance films on YouTube with top-class ballet and leading dancers. It's fantastic that this lets us reach a new audience that never had much affinity with ballet before, but who might now want to have the 'real' experience in the theatre.
The biggest compliment I got for my dance film Rose was, "I've never been to a ballet before, but I watched your piece four times." That's my goal: to create work that's a hit with both ballet connoisseurs and people who are discovering dance."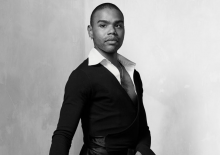 Erwin Olaf
Sedrig Verwoert studied Jazz and Musical Dance at Amsterdam University of the Arts. He danced in New York and Israel, and since 2018 he has been a freelance dancer and choreographer. One of the companies he worked with was Dutch National Ballet, where he became a Young Creative Associate this year. He has won several awards, both as a dancer and for his work as a choreographer.
"My dance is very physical and athletic. I like to use the whole space and keep it as bare as possible, preferably with no scenery. Then the focus is on the dancer; the person who explodes into action from a standstill.
I've danced in white companies all my life and hardly ever felt at home. I want to involve the audience in my experience. I want to touch them, challenge them, move them and – where necessary – provoke them. So that the people in the audience become part of a total experience and ask themselves questions they may never have asked before.
As a young choreographer, I hope to add a new narrative to contemporary dance and to Dutch National Ballet: a story about being black and about sexuality, but also about inclusivity and how we can reach out to one another."
Erwin Olaf
Wubkje Kuindersma is a freelance choreographer and Young Creative Associate with Dutch National Ballet. She graduated from the Rotterdam Dance Academy and made her debut as a choreographer with her solo Aquasomnia in 2009. Since then, she has created works for Dutch National Ballet, the Junior Company and various international companies.
"Originally, I'm from the world of modern dance, but I really love the classical technique, as well as film and theatre. Each piece I create starts with a sort of dream or film in my mind; a picture of a world with a certain atmosphere or tension.
My work is often a reaction to how I experience the world today. Essentially, it's about a desire for human solidarity. Last year, I was in Australia working on my piece Architecture of Hope, just before the corona pandemic broke out. Intuitively, I used dark music, as if I had a premonition of what was to come. That's the wonderful thing about dance – you can express all kinds of emotions through it, and it can reflect the spirit of the times with speed and flexibility. You don't need a long and difficult process for it; you don't need to build a house first. Dance is created in the here and now. That's why it's always contemporary and always relevant."