Photo: Liza Kollau
Behind the scenes: the technicians
2 June 2023
A meat grinder, a lever and a moving stage; anything that requires some type of mechanical engineering is the domain of our technicians. Oscar Andreasson and Rusiyan Ivanov have each worked as a maintenance technician in the Stage Machinery Maintenance department of Dutch National Opera & Ballet (DNO&B) for a year. I met up with them to ask them about their work behind the scenes. 
Working with machinery was not new to either Oscar or Rusiyan when they joined DNO&B. Oscar: 'I used to work in shipbuilding, an entirely different kind of field. I find my work here much more interesting. There are so many projects that there's something new to do or discover all the time. I'm really happy to work in the cultural sector.' Rusiyan also enjoys his job a lot: 'Before this, I worked as a machine technician in Bulgaria. Here, we build set pieces and stage props. People tend to underestimate what it takes to put together a production. It's mind-boggling how much work goes into the end result. That was fascinating to me. When I came to the Netherlands two years ago, I knew I wanted to work at a theatre. The work's great, even better than I expected!'
Creativity and innovation
There are about 11 people in the Stage Machinery Maintenance department who work on the moving parts of DNO&B's opera and ballet sets. Rusiyan: 'We have different talents on our team. Some of the team have more affinity with technology, while we're better at building machines.' This diversity makes for a strong team. They can handle all kinds of different projects thanks to their versatility. Rusiyan: 'What I really like about the job is that we have to be creative and innovative. We make things that have never been built before. The trap door in the stage, for instance, that's used to move props and performers on and off the stage. We came up with an entirely new design.' All projects the technicians work on, including their self-designed pieces, are documented. Each prop or set piece is subjected to a risk assessment and its technical specifications are recorded. This helps other technicians understand the machinery and repair it if it is broken. 
Rusiyan designing a construction - Photo: Liza Kollau
REALISTIC DREAMS
The process of building a set piece or stage prop starts with a meeting. A production's artistic team will pitch a detailed idea to the design team, which will share and discuss it with the technicians who, for their part, will sit down to explore how to execute the idea in a workable manner. They will take their plan back to the design team. If they have made major changes to the original idea, the teams will try to work out a compromise. Rusiyan: 'It's very important to be clear and speak plainly in these meetings. A piece of machinery needs to be safe for use, but you don't want to stand in the way of the creativity of the artistic team. We do everything we can to make their dreams a reality.'
Safety first
Safety was definitely a challenge for the technicians when they were building set pieces for the opera Animal Farm. Oscar: 'There's a meat grinder on the stage. That can pose a risk: what if someone were to accidentally get their hand or their sleeve caught in the grinder during a performance?' Rusiyan: 'We had to draw a line: the meat grinder was a go, but the option to turn it on remotely via a computer was disabled, so that the performers wouldn't be surprised by it suddenly springing into action while on stage. It also had to have a stop button. We compromise a lot in our work, but never on safety.'
To avoid risks as much as possible, the technicians consider every possible outcome. They constantly keep asking themselves, what if? Oscar: 'In the building process, everyone's expected to observe the agreed safety regulations. Artistic teams occasionally try to bend the rules a little to realise their vision. We'll stop them if safety becomes a concern. It may sound like a great idea to have someone float above the stage, or to use a revolving table or a working meat grinder as a prop, but it has to be safe for the dancers and singers.'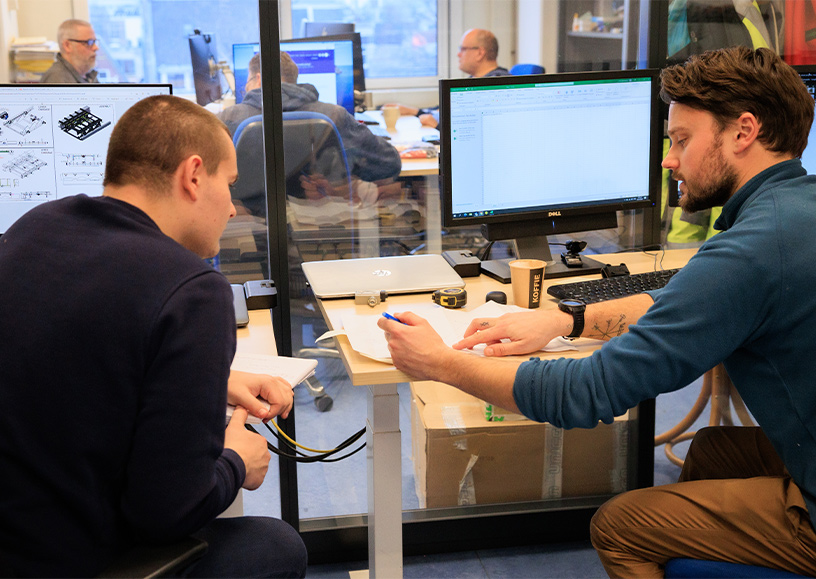 Rusiyan en Oscar working - Photo: Liza Kollau
PROBLEM SOLVING
Besides building new set pieces and stage props, Oscar and Rusiyan also repair machinery. There are two possible scenarios. First, machines can break. Oscar: 'If a machine breaks down, we need to get to the bottom of why it stopped working. If it happened to one machine, it could happen to others as well.' Second, machines require maintenance. Rusiyan: 'We do preventive maintenance to keep the equipment up and running. This takes up most of our time. Every machine has a time limit on parts. It needs testing or new parts every so often. We test our machinery and replace parts every year. If a cable is meant to lift 1 tonne, we test it by lifting 1.5 tonnes, even if our calculations say it can handle up to 10 tonnes. That's how we make sure it's in good working order and safe. The show must go on, but in a safe way. That's our motto and we stand by it, always.'
Text: Meren Rutten