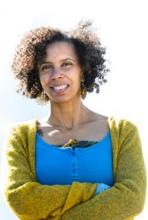 Adesola Akinleye is a choreographer, performer, writer, teacher and speaker. She began her career as a dancer with Dance Theatre of Harlem (USA), later working in UK companies such as Green Candle, Carol Straker and Union. Adesola directs her company DancingStrong and triip (turning research ideas into practice), a unique multi-generational, multi-disciplinary ensemble and creative space for herself and others.
Adesola Akinleye holds an interdisciplinary Doctor of Philosophy in dance/sociology/embodiment. She has a Master of Arts (distinction) in Work-based learning: Dance in education and the community. Her most recent writing project, Narratives in Black British Dance was published in February 2018. She is now working on her
next book (Re)Claiming Ballet, in which she brings together a variety of researchers and writers reflecting upon the broad pallet of ballet practices nowadays.
Adesola Akinleye has been awarded ADAD Trailblazer Award, Bonnie Bird New Choreography Award and One Dance UK Champion Trailblazer Award and was Woman of the year in Community Dance. In 2018 she was shortlisted for One Dance UK Impact in Dance Writing Award.