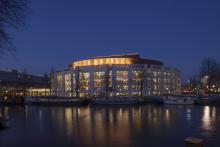 Your visit
A safe visit to Dutch National Opera & Ballet
On this page you will find information about how to reach our theater, opening hours & address, ticket sales information and food & beverage options before, during and after a performance.
Safe visit
To ensure that your visit is as safe as possible because of the coronavirus, Dutch National Opera & Ballet follows the guidelines of the RIVM. Before you come to us and during your visit, we ask you to take a number of things into account. Together we can ensure your and our health.
Here you can read more about our measures and find answers to various questions relating to your safety. 
Read all about the food and drink options during the break and after the performances, both in and around Dutch Nationale Opera & Ballet.
Read all about group arrangements at Dutch National Opera & Ballet here.