Explanation and perks at a glance
Flexibility in putting together the series. You are not tied to a predetermined series of performances and play dates

Exclusive priority on individual ticket sales

Choice of at least two opera or ballet productions for the entire season

Choose your own seat and row

If it turns out that a date is not convenient for you, you can make use of Ticket Exchange

The next season you can decide to make use of this advantage again
If you have any questions
We are at your service!
For questions or help ordering your subscription, please contact a staff member of the subscription office on 020 790 0079 (available on working days from 14:00 - 17:00) or via abonnement@operaballet.nl.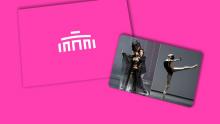 It is possible to pay for your subscription with your gift card. Click on the link below for more information and to check your balance.
Support
Our house or a company
Dutch National Opera & Ballet creates enchanting performances that move and inspire. Our donors help us to do so. Would you also like to give us an extra helping hand?
A warm thank you for your trust in us. We hope to welcome you regularly again this season!