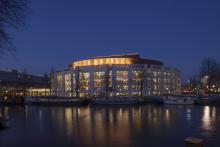 Safe visit
Your safety comes first. We have taken several measures that are necessary in order to make your visit to our theatre as pleasant and safe as possible. On this page, you can read more about our measures and find answers to various questions relating to your safety.
This page was updated on 27 January 2022.
Your visit
To ensure that, in spite of the current corona pandemic, your visit is as safe as possible, Dutch National Opera & Ballet follows the guidelines of the Dutch government. Before you come to our theatre and during your visit, we ask you to pay attention to a number of things. Together, we guarantee your and our health.
All visitors to the theatre, aged 13 and over, will be scanned at the main entrance for the possession of a valid QR code from the coronavirus entry pass.
Please visit coronacheck.nl/en to find out how to obtain a valid QR code.
Validity QR code
Had a booster yet? Please note that after your booster shot, the data will not be automatically processed in the Coronacheck app and your QR code; after a booster shot, you must add the booster data again in the app or reprint it (see https://coronacheck.nl/nl/print).
The validity of the QR code is maximum 270 days/ 9 months after vaccination and 180 days after recovery.
As of February 1, the central government plans to cap the validity of the first 2 vaccinations (1 at Janssen) at 270 days counted from the day of the last vaccination and to cap the validity of the recovery certificate at 180 days. For example, if you were fully vaccinated in April 2021 and did not have a booster after that, your QR code will no longer be valid in February 2022. Access to the Dutch National Opera & Ballet is not possible without a valid QR. In case of a booster your QR code is immediately valid after you have created your new QR code. 
Validity of QR code based on a test, is up to 24 hours. 
Masks and distance
In accordance with the guidelines of the national government, masks must be worn when walking around the theatre. In addition, 1.5 meters distance is required inside the theater.
Self-test
The National Government makes the urgent recommendation to visitors to take a self-test on day 5 after the performance. For children from 6 years up to and including 12 years old, the urgent advice is to take a self-test prior to the performance.
Access only with valid QR code
Visitors aged 13 and over need a valid QR code from their coronavirus entry pass and a valid ID to enter our theatre. Your QR code will be scanned at our main entrance. Please download the CoronaCheck app on your phone at home and upload your QR code on your phone as well. Remember to collect the booster data in the app. You can also print the QR code from your computer. Yellow booklets, vaccination certificates, etc. without a QR are not valid admission tickets and do not grant access!
Visitors from an EU country can show the QR code of the European Digital Corona Certificate (DCC) from the country of origin. Is it a DCC with a test certificate? Then the negative test cannot be older than 24 hours at the start of our show. Is your test older than 24 hours? Then have yourself tested again at testenvoortoegang.org
Visitors from the following non-EU countries are also connected to the DCC system and can also have their QR scanned: Albania, Andorra, Faroes, Iceland, Israel, Liechtenstein, Monaco, Morocco, North Macedonia, Norway, Ukraine, Panama, San Marino, Turkey, Vatican City, United Kingdom and Switzerland. For the current list of connected non-EU countries, see this page.
Visitors from outside Europe do not have a European Digital Corona Certificate (DCC) and need to take a test via testenvoortoegang.org within 24 hours prior to the show.
Frequently asked questions COVID-19 restrictions
Do you have another question regarding the current COVID-19 restrictions? On our page with frequently asked questions, you will find the answers to the most common questions on how we enforce the current COVID-19 restrictions in our theatre. 
Arrive on time
The doors will open one hour before curtain-up. Please be at the main entrance at least 30 minutes before curtain-up. After the doors have opened, please take your seats in the auditorium as soon as possible. Please note that the doors close after the performance has begun. You will then no longer be able to gain access to the foyer and the performance.
The bars will be open before the performance and during intermission. They will be closed afterwards.
Regulated entrance
Upon arrival in our theatre, we ask you to have your QR code and ID card ready so that scanning can be done quickly. After entering the foyer, please disinfect your hands.

Coats and bags
For your safety, we are keeping the cloakroom closed. You may bring your coat and bag into the auditorium. We ask you not to bring any bags larger than A4 format.
Mask
Masks must be worn in the foyer, at the bars and in the toilets when moving around. In the auditorium, you must wear your mask when entering the auditorium until the lights go out and the performance begins. At the end of the first act and the end of the performance, you must put your mask back on when the lights go on and when leaving the auditorium.
Seating
From February 2022 onwards, the performances will have assigned seating. You can book by rank and seat number. There will be 1.5 metres between you and other guests. Tickets can be ordered per 1 ticket or 2 tickets. It is not possible to book more than 2 tickets in one order or to sit with more than 2 people next to each other.
Ventilation
The ventilation in the Dutch National Opera & Ballet consists of 'Circulation', as advised by the REHVA (Federation of European Heating, Ventilation and Air Conditioning Associations). This means that the incoming air throughout the building is 100% outside air. No air is reused (recirculation). Our inflow capacity, the amount of fresh air blown in, came out of the tests as more than sufficient. The good ventilation does also mean that it feels a bit colder than normal. Please take this into account when choosing your clothing.
Clean sanitary facilities and furniture
We will make sure that we can welcome you in a clean environment. Before every performance, we clean the foyer, auditorium and bars very thoroughly. Door knobs, handrails, tables, toilets and other surfaces are cleaned extra often. 

Paying safely
In our theater, we handle a pin only policy, so we will be able to serve you faster and saver. At the bar, the store and the ticket office, you can pay contactless.
Maximum amount of visitors
With the coronavirus entry pass system and the current corona measures, we maintain a distance of 1.5 metres. This allows us to receive a limited number of visitors of up to 400. Visitors must keep a distance of 1.5 metres and wear a mask when moving around within the theatre.

Introduction
Due to the corona measures, there will be no introductions at the performances.