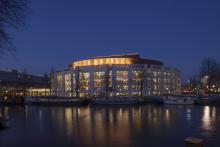 Safe visit
Your safety comes first. We have taken several measures that are necessary in order to make your visit to our theatre as pleasant and safe as possible. On this page, you can read more about our measures and find answers to various questions relating to your safety.
This page was updated on 30 June 2022.
Your visit
To ensure that, in spite of the current corona pandemic, your visit is as safe as possible, Dutch National Opera & Ballet follows the guidelines of the Dutch government. Before you come to our theatre and during your visit, we ask you to pay attention to a number of things. Together, we guarantee your and our health.
Masks 
As of 25 January, wearing a mask and maintaining a distance of 1.5 metres is no longer mandatory at Dutch National Opera & Ballet. If you feel more comfortable wearing a mask, you are always free to do so. For visitors who have forgotten their masks but would prefer to wear one, we provide free masks in the cloakroom. Please ask one of our cloakroom staff.
Hand sanitiser and masks on request
To maintain optimum hygiene and reduce the risk of new infections, we permanently place hand sanitiser dispensers in the foyer of Dutch National Opera & Ballet, and we advise you to disinfect your hands when entering the theatre.
Self-test advice
The Dutch government urgently advises you to do a self-test when you experience symptoms that resemble corona. If you test positive, we request that you do not come to the theatre.
Frequently asked questions COVID-19 restrictions
Do you have another question regarding the current COVID-19 restrictions? On our page with frequently asked questions, you will find the answers to the most common questions on how we enforce the current COVID-19 restrictions in our theatre. 
Arrive on time
The doors will open one hour before curtain-up. Please be at the main entrance at least 30 minutes before curtain-up. After the doors have opened, please take your seats in the auditorium as soon as possible. Please note that the doors close after the performance has begun. You will then no longer be able to gain access to the foyer and the performance.

Coats and bags
Our cloakroom is open. We ask you not to bring any bags larger than A4 format. There are free masks available at the cloakroom. Please ask one of our cloakroom staff.
Seating
From February 2022 onwards, the performances will have assigned seating. You can book by rank and seat number.
Ventilation
The ventilation in the Dutch National Opera & Ballet consists of 'Circulation', as advised by the REHVA (Federation of European Heating, Ventilation and Air Conditioning Associations). This means that the incoming air throughout the building is 100% outside air. No air is reused (recirculation). Our inflow capacity, the amount of fresh air blown in, came out of the tests as more than sufficient. The good ventilation does also mean that it feels a bit colder than normal. Please take this into account when choosing your clothing.
Clean sanitary facilities and furniture
We will make sure that we can welcome you in a clean environment. Before every performance, we clean the foyer, auditorium and bars very thoroughly. Door knobs, handrails, tables, toilets and other surfaces are cleaned extra often. You will also find hand sanitiser dispensers in the foyer and we ask you to disinfect your hands upon entering.

Paying safely
In our theater, we handle a pin only policy, so we will be able to serve you faster and saver. At the bar, the store and the ticket office, you can pay contactless.
Maximum amount of visitors
From 18 February onwards, we are allowed to sell 100% of our capacity again, which consists of approximately 1600 visitors.

Pre-performance talks
Dutch National Opera & Ballet introduces most of its performances with a pre-performance talk, which will enhances your theatre experience by providing background information. The talks are in Dutch and are free for ticket holders.