Exclusively for Houthoff
As the main sponsor of Dutch National Opera & Ballet, we regularly offer Houthoff clients and employees extras like discounted tickets or streams of beautiful performances. On this page, you will find more information about special offers for Houthoff. This way, you can enjoy the performance at a time that suits you.
Houthoff Partnercard
As main sponsor of Dutch National Opera & Ballet, the Houthoff Partnercard offers exclusive opportunities. Are you a Houthoff Partner? If so, you have received a letter to this effect by post.
Season 2022/2023
We are delighted to present the 2022/2023 season to you. It is a jam-packed season with no less than sixteen opera productions and eleven ballet productions. As you have come to expect from us, this season has something for everyone: opera and ballet from the classic repertoire, new and experimental works, modern iconic productions as well as productions for our youngest fans.
Watch the season presentation
Explore the world behind the scenes
Have you always wanted to know what it's like behind the scenes of Dutch National Opera & Ballet? We take you on a virtual journey of discovery through the theatre. Take a look in our costume atelier, step into the world of hairdressing and make-up and discover what the stage looks like from the wings!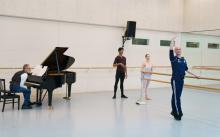 Keep on dancing! Put on some comfortable clothes, turn your kitchen counter into a barre and dance along with our online ballet classes! The ballet classes are given by Ernst Meisner, artistic coordinator of the Junior Company.