Exclusively for Houthoff
The streaming season of Dutch National Opera & Ballet has started again. As main sponsor of Dutch National Opera & Ballet, Houthoff offers you the streams one day earlier and, even the paid streams, for free. The streams will be available for one month. This way, you can enjoy the performance at a time that suits you. We hope you enjoy our performances!
Houthoff Partnercard
As main sponsor of Dutch National Opera & Ballet, the Houthoff Partnercard offers exclusive opportunities. Are you a Houthoff Partner? If so, you have received a letter to this effect by post.
Beethoven
Choreographer George Balanchine once said: 'The art of dance would be better off not venturing into Beethoven's world, because it is impossible to choreograph his music.' But with a famous masterpiece and a new creation set to music by Beethoven, Dutch National Ballet proves him false. And with sensational results!
Relations and employees of Houthoff can watch the livestream of the premiere of Beethoven on Tuesday 8 June completely free of charge. Get a preview of this wonderful performance below and click on the link to read more about Beethoven. 
Young Creatives
Last December, Dutch National Ballet appointed three new Young Creative Associates: Wubkje Kuindersma, Milena Sidorova and Sedrig Verwoert. In recent years, these three young upcoming talents have already choreographed various works for the company and/or the Junior Company, standing out for their great creativity and unique, specific and inspiring style. They are now demonstrating these qualities in Young Creatives with Memento, Rose and I Feel It Too: three dance films for which they devised the concept as well as creating the choreography. 
Wubkje Kuindersma - Memento (from 20 May)
Milena Sidorova - Rose (from 21 May)

Sedrig Verwoert - I Feel It Too (from 22 May)

METAMORPHOSIS - David Dawson
On 29 April Dutch National Ballet celebrates International Dance Day with the launch of the film recording of David Dawson's newest creation METAMORPHOSIS, a choreographic five-part about "hope and humanity, about finding light in darkness.
Explore the world behind the scenes
Have you always wanted to know what it's like behind the scenes of Dutch National Opera & Ballet? We take you on a virtual journey of discovery through the theatre. Take a look in our costume atelier, step into the world of hairdressing and make-up and discover what the stage looks like from the wings!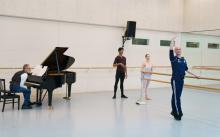 Keep on dancing! Put on some comfortable clothes, turn your kitchen counter into a barre and dance along with our online ballet classes! The ballet classes are given by Ernst Meisner, artistic coordinator of the Junior Company.