Start exclusive presale for September on Thursday May 13 
On Thursday May 13, the exclusive presale for performances in September will start at 12:00, for which you will receive that day at 12:00 a personal link by e-mail.

From May 13 to May 20, tickets for this exclusive presale can only be booked via your e-mail link, or by telephone via the box office: 020 6255 455.

Regular sales for performances in September will start on Thursday, May 20 via the website. 

Do you have a Dutch National Opera & Ballet Gift Card?  In that case, we accept your credits.

Read more

.

Due to the 1.5 meter rule, which we now take into account, it's not possible to reserve any fixed seats; however, you can choose different ranks.
 
Performances from October to December
Tickets for performances from October to December will go on sale from mid-August 2021. You will be informed by e-mail. 
Subscriptions
Due to covid-related measures, we cannot yet offer your usual subscription, there is limited capacity and specific seating is not yet available.

In October 2021, sales for subscriptions from January 2022 are planned. If you had a series with seating in the 2019-2020 season, your seat reservation will continue with the reservation of your subscription.
New season: A new beginning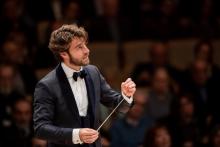 Dutch National Opera
Productions season 21/22
In the new season, the urgency of opera will be explored more than ever, according to director Sophie de Lint. View all productions of the 2021/2022 season.

Dutch National Ballet
Productions season 21/22
In September, Dutch National Ballet will celebrate its 60th anniversary! View all productions of the festive anniversary season 2021/2022 here. 
Interview Sophie de Lint
In many ways the upcoming opera season will be a time of new beginnings, as represented not only by Lorenzo Viotti starting his tenure as chief conductor but also by the great variety of projects on the programme. In the words of DNO director Sophie de Lint: 'More than ever, we're committed to exploring the urgency of opera.'

Interview Ted Brandsen
Dutch National Ballet was established exactly 60 years ago on August 31st this year. What began as a pioneering company with a unique, rebellious identity has evolved into one of the leading ballet companies in the world.
Safe visit
If the measures allow, we would like to welcome you again. In our theatre, your safety comes first. We have taken several measures that are necessary in order to make your visit to our theater as pleasant and safe as possible. On this page you can read more about our measures and find answers to various questions relating to your safety.

Can't get enough of opera and ballet? Discover more than 6.842 hours of:
opera and ballet fragments

ballet classes and singing lessons