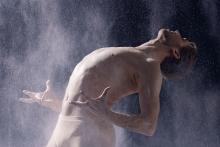 Photo: Marta Syrko
COLLABORATION DNO AND HNB
Location
Dutch National Opera & Ballet, Main Stage
Running time
1:40, no interval

Impressive chorus, soloists and dancers directed and choreographed by Christian Spuck
Following the success of Missa in tempore belli the previous season, the Chorus of Dutch National Opera and the dancers of Dutch National Ballet are combining forces once more. Led by choreographer and director Christian Spuck, they share the stage with four soloists, accompanied by the Rotterdam Philharmonic Orchestra. In his interpretation of Verdi's Messa da Requiem, Spuck brings together vocal music and dance with great virtuosity, in poetically powerful tableaux. 
Photo: Carlos Quezada
Performance Information
This requiem mass is sung in Latin.
Christian Spuck's production of Messa da Requiem touches on general human themes and is not a choreographic interpretation of the Catholic Requiem text. 
In order to emphasise the cross-denominational character of the performance, the artistic production team has decided not to use surtitles during this performance.
Musical direction  Eun Sun Kim
Choreography and stage direction  Christian Spuck
Set design  Christian Schmidt
Costumes design  Emma Ryott
Lighting design  Martin Gebhardt
Dramaturgy  Michael Küster, Claus Spahn 
Soprano 
Federica Lombardi (9, 13, 16, 19, 21 and 25 Feb)
Guanqun Yu (10, 14, 17 and 22 Feb)
Mezzo-soprano 
Yulia Matochkina (9, 13, 16, 19 and 21 Feb)
Agnieszka Rehlis  (10, 14, 17, 22 and 25 Feb)
Tenor
Freddie de Tommaso (9, 13, 16, 19 and 21 Feb)
Saimir Pirgu (10, 14, 17, 22 and 25 Feb)
Bass 
Alexander Vinogradov (9, 13, 16, 19 and 21 Feb)
Maxim Kuzmin-Karavaev (10, 14, 17, 22 and 25 Feb)
Rotterdam Philharmonic Orchestra
Dutch National Ballet (soloists t.b.a)
Chorus of Dutch National Opera
Chorus master  Edward Ananian-Cooper
Original production by Opernhaus Zürich
Trailer - Messa da Requiem
Ticket prices
Check out the ticket prices per price category via the link below.
Order tickets
Loading tickets...

'That first moment when everyone draws a collective breath'
Conductor Eun Sun Kim about Verdi and freedom.
Photo: Eun Sun Kim | © Kim Tae-hwan
Rehearsal Messa da Requiem | Photo: Altin Kaftira
Rehearsal Messa da Requiem | Photo: Altin Kaftira
Rehearsal Messa da Requiem | Photo: Altin Kaftira
Rehearsal Messa da Requiem | Photo: Altin Kaftira
Introduction
Almost every performance at Dutch National Opera & Ballet is preceded by an introduction, with background information that can deepen your theatre visit. The introductions are in Dutch and admission is free by showing a valid ticket.
Introduction Messa da Requiem by: Fabienne Vegt
Time: 45 minutes before the start of each performance
Location: 2nd balcony

Rotterdam Philharmonic Orchestra
Founded in 1918, the Rotterdam Philharmonic Orchestra is famed for the intense energy it brings to its performances. Led by principal conductor Lahav Shani, the orchestra is often commended for the huge range of colour in its sound. Lahav Shani's predecessors, Yannick Nézet-Séguin and Valery Gergiev, have both had honorific titles conferred on them as honorary conductors of the orchestra. The orchestra's most recent collaboration with Dutch National Opera was in 2021 with the The Seven Deadly Sins. This season, they will provide the musical accompaniment to Messa da Requiem under the direction of up-and-coming conductor Eun Sun Kim.

Can't get enough of Ballet? Discover more than 3,487 hours of:
ballet classes

behind-the-scenes videos

interviews & articles

fragments

games & quizzes